Dolce Gusto
King George as creamy storytelling layer on a NESCAFÉ Dolce Gusto.
No other agency enjoys a coffee flow as rich as at the HQ of King George. Speaking of strong coffee: the match with NESCAFÉ Dolce Gusto is a bold one. King George proudly showcases its affinity for coffee and blends the delightful flavors of NESCAFÉ Dolce Gusto into a refined recipe of Social Strategy, Art Direction, and PR. Here's a taste!
In December 2019, the first NESCAFÉ Dolce Gusto coffee with the King George blend was brewed. With the holiday season just around the corner, the renowned coffee brand approached King George with the initial request to come up with a creative and engaging concept for press and influencers at their pop-up store on Meir in Antwerp. In that pop-up, coffee couldn't just be any coffee; it had to be that ultimate cup of black gold that wakes you up in the morning. To survive the often hectic holiday season and Christmas shopping stress, King George came up with #koffiekater: 'First coffee, the rest can wait.' Because, let's be honest, coffee is a miracle cure for everything.
The Meir location was adorned with some brand guidelines from King George, featuring 'straight out of bed' pillows as a photo wall, a cozy bar, and a shop. For the launch, journalists and influencers were invited early in the morning – between 7 and 11 am – to stop by for a warming morning boost before their workday. King George's PR experts carefully selected press and influencers, and as a result, the pop-up became a success with the general public throughout the Christmas season.
Public Relations
The world of coffee
NESCAFÉ Dolce Gusto and King George, that's like you and coffee in the morning: never change a winning team. Content is determined on an annual basis, based on 5 pillars to which PR, social media strategy, and influencer marketing are attached. Together with the marketing team of NESCAFÉ Dolce Gusto, we come up with interesting, out-of-the-box ideas based on (inter)national trends and products. The goal is to highlight coffee in an original way – without being too commercial.
Art Direction
It's all about the images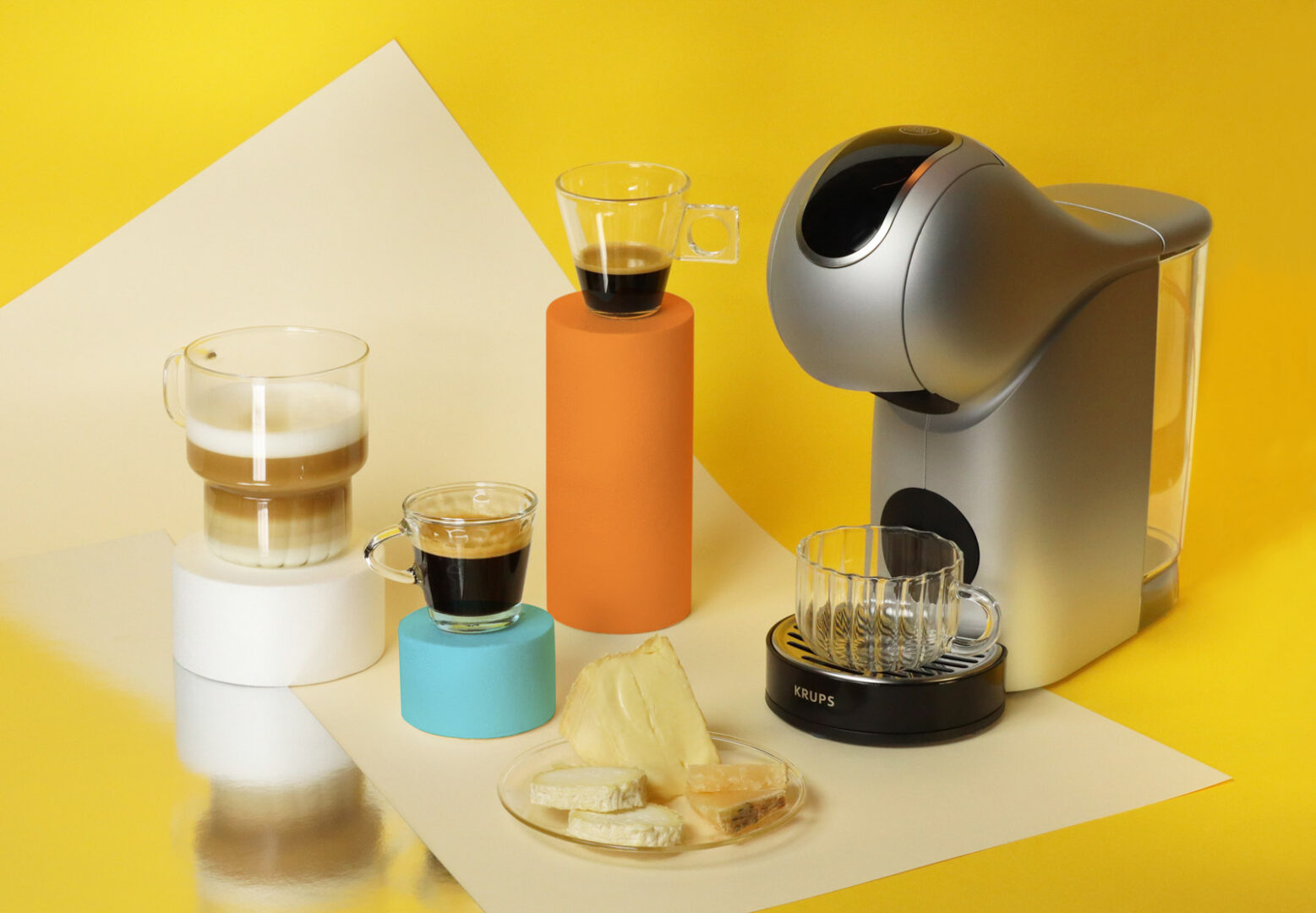 Coffee is just coffee without the right content: from engaging text to enticing visuals, both in PR and on social media. To ensure that both align seamlessly with the set goals, King George reaches for its camera for trend shoots for NESCAFÉ Dolce Gusto. The setting and styling are strategically planned in advance. Afterwards, the images are meticulously perfected to create the perfect photo.
Sketch
Finale resultaat
"King George brings the coffee brand to lifestyle magazines in a fun and creative way, from coffee mocktails to banana bread with coffee."
-
Arne Ruysbergh
Brand Manager at Nescafé Dolce Gusto
Social Strategy
What's new?
The PR and social strategy narratives run in parallel and utilize the same 5 content pillars. Throughout the year, social media experimentation is carried out regularly, from Instagram stories and posts to Facebook ads, all to elevate the coffee of NESCAFÉ Dolce Gusto to a higher level in both words and visuals.
Influencer Marketing
Get your coffee now
Coffee is a versatile product, especially for influencers to work with. Influencers like Lily Joan Roberts, Chloé Lauwers, and Sarah D'hondt are more than happy to test NESCAFÉ Dolce Gusto coffees and create delicious recipes to inspire their followers to do the same. Ready for a delightful cup of coffee?
Want a project like this?
Have we awakened your inner creativity? Reach out and bless your business with a royal touch.