Cit of Sint-Niklaas
King George gave Sint-Niklaas an 'Oh-so surprising' face
We felt royally welcomed by the city of Sint-Niklaas when we set foot in the populous East Flemish city and established our kingdom in it. Now, years later, the roles are reversed. The result is 'Oh-so surprising'…
How the city should communicate
Marketing Strategy (City Marketing)
How can you position a city with a complex political organisation – in which every political party, department and individual has a different vision of how Sint-Niklaas should be run – as an ambitious major Flemish city? King George read through countless policy documents, looked at things from the perspective of the people of Sint-Niklaas and then came up with a strategy to enable simpler and clearer communication, both internally and externally. Four core values emerged from this extensive analysis, encapsulating the city's DNA: dynamic, innovative, warm and colourful.
King George discovered that what is (or used to be!) a somewhat shy and retiring city actually has a surprising amount of potential. Together with the City, we translated this vision and DNA into a City Marketing plan, with 'Oh-so surprising' as its baseline. This plan is now used to devise campaigns based on four clear sub-themes: Space, Wellbeing, Prosperity and Free Time. Every message plus its underlying goal is thoroughly analysed and grouped under one of these four themes. To avoid losing sight of the wood for the trees, King George put together an internal Brands handbook, with practical guidelines and info. Because ultimately, great external communication starts with streamlined internal communication.
"The four themes help us communicate simply, coherently, and above all, consistently"
-
Julie Haspeslagh
Strategic Manager at King George
How the city should look like
Graphic Branding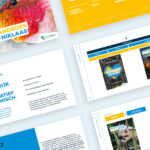 "Behind every strong man is an even stronger woman." Or, as King George would have it: "Behind every strong marketing strategy is an even stronger house style". At the start of the collaboration, King George came up against a number of limitations in the house style. So we created a clear, functional, well-structured yet still recognizable version of it. Not a house style 2.0, but rather a house style 1.5, with the former elements and colours still recognizable to Sint-Niklaas residents. The colours bright blue and yellow were retained but complemented with white, turquoise, and light grey as classy counterweights. With its simple areas and large images, the updated house style is not a stylistic break from the past: instead, it is an optimised version of the original.
Because City Marketing spins a web of messages, based on the four themes, all online and offline communication is partitioned in the same way. Every theme has a slogan and an icon that keeps recurring in the yellow bar at the bottom. To keep things dynamic, each theme also gets its own detail.
"A house style doesn't just determine your look, it also determines your sound"
-
Jan Verbelen
Art Director at King George
How to communicate campaigns
Brand strategy
Equipped with a clear strategy and house style, the City embarked on its journey towards strong internal and external city communication. Its travelling companion: King George.
'Everyone On Board' (2021)
To flesh out one of the four themes, King George helped construct the 'Everyone On Board' campaign. For this campaign, King George created the key visual and the slogan 'Small gesture, big smile'. We also worked out the media mix and the internal and external communications plan.
Project 33 was launched to creatively fill in and green the space between the 33 piers under the railroad bridge. Because the bridge has been dividing the city in two for years, the City felt the time was right to reunite the downtown area.
King George came up with the strategic concept (launch for the search for suitable partners and follow-up campaign) and created the entire branding, from logo to visuals, and motion designs.
Sint-Niklaas received the Belgian label for Child and Youth Friendly City for its efforts to pay attention to the well-being of its very young residents. King George jumped on board to visually and strategically develop the label – dubbed Jong. Wild. Goud. That way, the label will be accessible to all young people in the city. All the projects that Team Youth of the City is now realizing will be bundled under Jong. Wild. Goud.
How the city should move
Motion design
Get the city moving! King George conjured up a series of illustrated figures with its digital pen, including campaigns like Everyone On Board, Jong. Wild. Goud, de Stadsmunt, Project 33, Sint-Niklaas Renoveert, Weekend van de Klant…
How to get your citizens moving
Events
During the coronavirus years 2020 and 2021, creative thinking had to be done by the city council to create a warm end-of-year atmosphere in downtown Sint-Niklaas. Due to rapidly changing measures King George put together two fairly last-minute corona-safe winter walks full of experience. For three weeks in 2020, you could take a city walk past 13 surprising stories and Christmas trees. At each Christmas tree, you heard a heartwarming or moving story from a Sint-Niklaas resident. A year later, visitors to the city were allowed to join the magical dream journey of sisters Sarah and Emma, who told of their dream world along a trail.
Want a project like this?
Have we awakened your inner creativity? Reach out and bless your business with a royal touch.