Yalo
The Future of Hybrid Hotel Concepts: Yalo from A to Z
Transforming a non-place shopping center in the heart of Ghent into a complete hotel concept? Absolutely! Would you like it to be even more exceptional? Even better. By the end of 2021, Yalo Boutique Hotel opened on Brabantdam Street in Ghent, introducing a hybrid hotel concept that presented considerable challenges for King George and his team. Nevertheless, it evolved into an unprecedented concept in the Belgian hospitality scene. Strategy, branding, interior design, copywriting, PR – this project demonstrates that King George operates in a complete 360-degree manner!
Nestled in the heart of Ghent on Brabantdam Street, Yalo is a four-star hotel with 92 beautifully designed rooms, a vibrant cocktail and wine bar, an exquisite foodie restaurant, exceptional meeting spaces, and a rooftop offering expansive city views. "We went all out in terms of experience and design to ensure its 24/7 relevance," Nicolas explains. This is manifested in a place that can serve as a spot for breakfast, apéritifs, dinner, and even a club. Hotel guests dine on-site, and locals might even forget that Yalo is, at its core, a hotel."
Strategy
A hotel with no equal
In major cities like Paris or London, it's been a trend for a while: hotels that offer incredibly trendy restaurants and event spaces, attracting not only hotel guests but also drawing a crowd of non-guests. "Hotels abroad are true destinations: they're so stylishly designed that they're meant to be seen, and you want to see them – whether you're staying there or not," says Nicolas Block, Creative Director of King George. "With Yalo in the heart of Ghent, we haven't just created a hotel, a restaurant, or a meeting venue. It's all of that shaken up in a hybrid cocktail that leaves you craving for more. The future of hospitality is multifaceted. This holds true for Belgium as well."
Brand & Marketing Strategy
Anyone wanting to launch a completely new concept on the market needs to dig deep enough to provide solid foundations. Our strategic team went to dig out the Ghent hospitality landscape with spade and manpower, after all, which hotels already existed in Ghent and which one needed a bustling city like this? Yalo was given a straightforward positioning with solid foundations. In short: a concept we know from metropolises like London, Paris and New York, but did not yet know its equal in Belgium. A concept that is wildly popular and could also be in Ghent.
Even though the hotel was not yet ready to open, warming up the public to Yalo was certainly possible. Through a digital strategy – hand in hand with a social strategy – the vibrant Yalo-tale was already being created online. King George designed a temporary landing page where curious visitors could already browse and even book a room.
A strong brand strategy requires content marketing that is in line with the approach. 
A unique story like Yalo's got creative and relevant content in which the brand strategy chosen came to life. Content that triggers to come to Yalo to eat, sleep and/or drink, but that also makes the visitor not want to leave or definitely want to come back.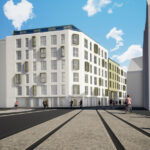 Even though for years much changed mainly inside, in the months leading up to the grand opening, the appearance of the Brabantdam was also gradually coloured by Yalo, including with catchy stickers. This way, people passing by knew that something was up and potential employees were triggered.
Branding & Graphic design - De kleur van Yalo
Huisstijl
An innovative concept calls for an equally innovative branding. Hip, yet high-end, with an overwhelmingly cosmopolitan vibe. King George looked for a colour palette in the same vein. The dark green chosen has a chic but also atypical edge. We opted for a touch retro, with a nod to mid-century, just like the interior. It was given a classy vibe, without being too classic, with a modern twist. The gold elements stand by that recipe. "Yalo was given the typical King George sauce: unique, luxurious with a touch of rock and roll," says Nicolas. Because the name is short, we were able to give it a graphic effect. It is geometric and has a metropolitan vibe; the SoHo or better SoGo feel of what Ghent can be. The recognisable and recurring patterns again give a retro feel, which has been carried through to the interior.
""Yalo was given the typical King George sauce: unique, luxurious with a touch of rock 'n' roll""
-
Nicolas Block
Founder of King George
The graphic creatives at King George set to work with the visual identity. With a web design in the same vein, visitors are surprised even before they have visited Yalo. "We managed to create a website that is essentially conversion-oriented, without looking standard and basic," says Jan Verbelen, Art Director. "On the one hand, you get the vibe that the hotel exudes, thanks to the house style, moving images and video footage, and on the other, it is very functional. This website is alive!"
"The challenge was to communicate about the hotel before we even had visuals," says Jan. So the graphics team came up with a cool animation style that could already convey the right feeling to make people curious. For example, Yalo's 'Y' was fully animated with a flickering 3D neon effect. "An eye-catcher of considerable size!"
Social media – An experience on its own
Social Strategy
The one space where there was something to experience in the months before the opening was online on the temporary landing page and on social media. For the opening, the aim was to trigger and make people curious about what was about to happen on the Brabantdam in an original way. It had to make it clear that Yalo is a place of experience both inside and out. The aim of the strategy on social media was to put Yalo in the picture as an accessible meeting place, both with images and with copy.
Making do with what we had was nothing short of an understatement in the months – you could even call it years – leading up to the opening. Through catchy motion designs, renders, and stock footage, we managed to create the appropriate content. Just before Yalo was fully prepared to open its doors, King George, armed with a team of professional photographers, ventured inside. The result was an extensive collection of photos, covering everything from the bar and restaurant to all types of hotel rooms, providing the hotel with a visual resource it can draw from for years to come.
King George's social wizards also set up several social campaigns. On the one hand to create awareness that the hotel was about to open, but also to provide a focused search for the right staff.
Web & Digital – Het online denkwerk
Webdevelopment
The Yalo building is a place of experience, and this becomes clear from the website. It too was given the vibrant Yalo atmosphere and immerses the visitor in what Yalo has to offer. Visitors walk past the rooms, meeting rooms, bar, restaurant and rooftop, and can also book them easily. Using a link to a booking system, you can check availability in order to book.
From the moment a room is booked, the journey begins. With personalised and catchy mails, visitors are immersed in the Yalo-tale before and after their visit!
PR & Influencers – Proof that PR works
Persrelaties
"Such a strong concept didn't need a whole lot," says Magalie De Bruyn, PR Account. "Yalo is the perfect example that classic PR still works." From King George, we sent out a press release about the hotel and all its facets, with stimulating copy and clever imagery. "This gave the journalist a digital walk through the hotel," he says. The press release was personally pitched to the journalists and they were offered an overnight stay with breakfast so they would get the full experience. The case was picked up by almost every medium.
Interior Design – A hybride experience as it should be
Horeca
Yalo was a renovation project, having been a shopping centre until about a decade ago. Turning such an 80s non-place into an overall concept was a challenge, to say the least. A hotel, restaurant and rooftop bar had to harmoniously reconcile with each other and become an attraction that had to appeal to Ghent residents, business people and tourists alike. "Everything in Yalo had to be multi-purpose, which is also what makes it so unique," Nicolas says.
The 92 rooms count five furnishing concepts that are used interchangeably so that guests can always be surprised on different visits. King George also calls the furnishings hybrid: no vintage, no design, no luxury, but all of that in a balanced mix. Branding returns everywhere, from the main colours of gold and dark green to some secondary colours, such as terracotta red and ochre yellow. This again gives the interior that retro mid-century vibe.
The restaurant and bar were the biggest challenge. Every visitor – with whatever profile – had to be able to feel at home there. "Everything had to be seamlessly linked," explains Soo Heyvaert, Interior Designer. "The flex worker might prefer to sit a bit higher up and also want to be able to work in silence, while a group of girl friends likes to chat over a lavish lunch. The spacious atrium made it difficult to make the most of this division, but strategically placing the furniture created open and enclosed seating areas."
The incidence of light – large windows letting through Belgian, cold and white light – from above also did not always make it easy to create a warm setting. Through the materials used (furniture and lighting groups) and by working with levels (i.e. no walls or partitions), it was possible to create a living room feel on a large scale. There was the mid-century framework again! The bar in the middle acts as a compass, without losing sight of the imposing atrium.
The result of the hotel is in a design style that includes a mid-century design nod, but brought back to a modern and innovative concept. Without losing sight of architecture and sophistication. "Everything here is free of clichés," Soo points out. "The result did not come about by decorating off, but by measuring every square metre architecturally. We didn't just decorate anything, the decoration was just to finish off the already strong interior."
Content – The magic touch
Copywriting
Our copywriter was given almost complete carte blanche. With the strategic story as briefing, the cosmopolitan rock and roll story flowed from her pen with a wink. There was no shortage of fun and boldness, which fitted perfectly with the story. From long copy for the website, room guide and press releases to short copy for all possible media. In both Dutch and English, Yalo was brought to life word for word.
Fotoshoots – Video – Styling
King George worked with the best photographers to capture every facet of Yalo. Besides the casual photos and videos needed to paint a picture of the rooms, restaurant, meeting rooms and the like, we created vibrant, even extravagant settings that would once again capture the imagination.
Want a project like this?
Have we awakened your inner creativity? Reach out and bless your business with a royal touch.